News
9/28/07
HANC helps construct Geisinger LIFE Facility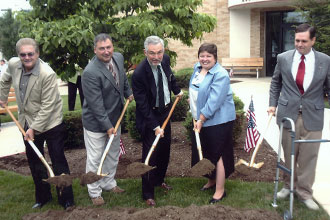 The Housing Authority of Northumberland County (HANC) recently broke ground for the construction of the new Geisinger LIFE facility, which upon opening on January 1st, 2008 will provide comprehensive healthcare services to meet elderly patient's medical, social, and emotional needs.

The $1.3 million federal and state sponsored LIFE facility will enroll 65 patients into their all-inclusive care package. Patients will have transportation to and from the center where they will take part in various activities and receive healthcare and therapy. The LIFE center will also generate over 40 jobs in the Kulpmont community.

Dr. Glenn D. Steele, Jr., President and CEO of Geisinger Health System, thanked HANC Executive Director Edward Christiano and members of his staff for "making the facility become a reality." Steele also praised Amy Minnich, director of the LIFE program, for her "tireless efforts, whose vision was the catalyst for the program."

This program is one more way HANC has been able to promote adequate and affordable housing, economic opportunity, and a suitable living environment free from discrimination.

For more information on HANC programs and availability, e-mail us today or call (570) 742-8797 or (570) 339-5844!