News
9/24/04
HANC awarded $35,000 grant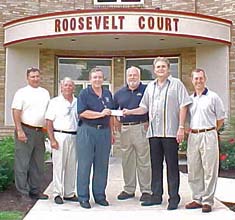 The Housing Authority of Northumberland County was recently awarded a $35,000 economic development grant to be used for additional improvements to the Roosevelt Court Housing and Educational Center in Kulpmont Borough.

"The grant represents an investment in safety, security, and quality of life for residents and students at Roosevelt Court, "said Nicolas P. Goretski III, Chairperson of the Housing Authority Board of Commissioners. "These funds will enable us to upgrade and expand accessibility for persons with disabilities, and improve the services and programs at Roosevelt Court."

Grants like this one from the Pennsylvania Department of Community and Economic Development are designed to help local communities maintain and improve necessary programs and services with the intent of saving area residents thousands of dollars in the process.

The Roosevelt Court, formally a vacant school building, was transformed through HANC initiatives into an award winning housing and educational facility designed to serve the residents of Northumberland County.

The Housing Authority Board of Commissioners include: Nicholas P. Goretski III, Chairman; Steve A. Roush, Vice Chairman; and Frank D. Marcinek, Secretary/Treasurer. James J. Boylan, Jr. and James P. Garman are also board members and Edward P. Christiano serves as Executive Director.

For more information on HANC programs and availability, e-mail us today or call (570) 742-8797 or (570) 339-5844!